Offering sustainable innovations within the water chain.
In the wastewater chain we can take care of the entire process: from feasibility studies and design to delivery, construction, management, and maintenance of installations. The system Desah offers is modular and decentralized. In this system concentrated wastewater and kitchen waste are collected by means of vacuum toilets and kitchen grinders (black water) and therefore separated from the other less polluted (grey) water. In this way the treatment allows for recovery of energy and resources like fertilizer. Additionally, concentration of waste allows for efficient removal antibiotic resistant bacteria and persistent micropollutants like PFAS. The recovered water has a quality better then rain water and can be used or stored for local irrigation or other non-potable uses. These benefits over a conventional waste water treatment system do not come at a higher energy or costs.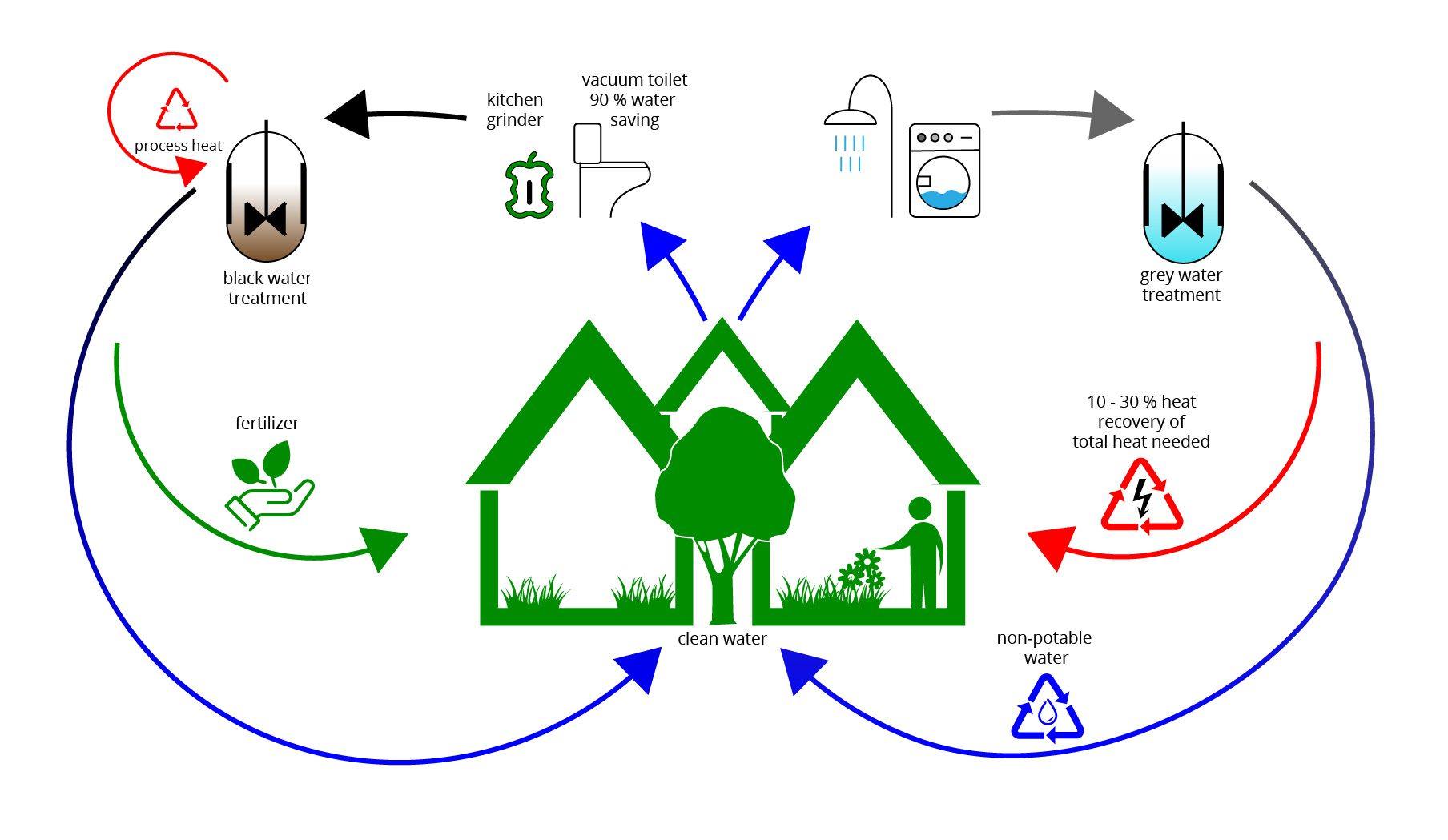 For applications such as toilet flushing, laundry, dishwashing or irrigation, it is a real waste of energy and resources to use high quality potable water. With a Desah system water consumption at the neighborhood level is directly reduced by integrating water-efficient toilets and recycling non-potable water. Moreover, cost, energy and resource savings will benefit both municipalities and residents.
The Desah system gives a district a robust and safe tool to be ready for the future.
Total 25% drinking water savings
Additional drinking water savings by recycling non-potable water
Fertilizers can be recovered from wastewater
More effective removal of micropollutants
Local reuse for maintaining green spaces
Delivers 10-30% of energy needed for heating homes
Fits in the fossil-free neighborhood
Wastewater treatment is energy neutral
Desah has several reference projects in the Netherlands and Sweden and where this concept has been demonstrated for 30 – 1000 houses. A Desah project in Sweden has won the 2022 Global Water Award for Wastewater Project of the Year for the greatest innovation in compact sustainable wastewater treatment.